Our blog is a passion project and thus reader-supported. As an Amazon Associate we may earn commissions from qualifying purchases.
If you're just beginning your journey on the piano, we understand that you might be looking for an instrument that is low maintenance and fairly affordable.
Digital pianos are a plug and play solution: you don't need a piano tuner/technician nor do you need to worry excessively about space constraints.
Good beginner-level digital pianos also start at £300, which make them an affordable option for those who are just getting started.
Furthermore, with a digital piano, you can adjust the volume when you practice. This is beneficial if you live with other people and need to consider their work or sleeping schedules.
What to look for in a digital piano?
When shopping for a digital piano, look for pianos that have:
- 88 keys
- Weighted keys
A full-size (88-key) piano will aid in developing a good understanding of keyboard geography. We find that students without full-size keyboards have troubles playing in the correct octave, finding middle C, bass C, and treble G. Although playing on a digital piano with weighted keys cannot compare with playing on professional acoustic pianos, it is still superior to a keyboard with light, plastic-feel keys in helping to build strong fingers and develop good technique.
Here are our recommendations for digital pianos, tried and tested by our teachers.
BELOW £300
Although there are digital pianos in this price range, we do not recommend them as they do not have the full 88 keys and the keys are not weighted. Our beginner students use all octaves from the start, so they wouldn't be able to practice a lot of the pieces. And because these cheaper pianos' keys are not weighted, students would have problems calibrating their playing on full-size pianos.
BETWEEN £300 and £500
These instruments do not come with a stand or bench, which needs to be bought separately.
Some of these pianos go out of stock occasionally, so we have included multiple options. (There may be slight changes in pricing on Amazon):
OUR PICK:
Casio CDP-S100BKC5
Yamaha P-45B Digital Piano
Roland FP-10 Digital Piano
BETWEEN £500 - £800 (BEST VALUE)
Digital pianos in this range are of much higher quality in terms of sound and sensitivity. They are much more sturdy and would last you a longer time than pianos at the lower range. We've included different brands: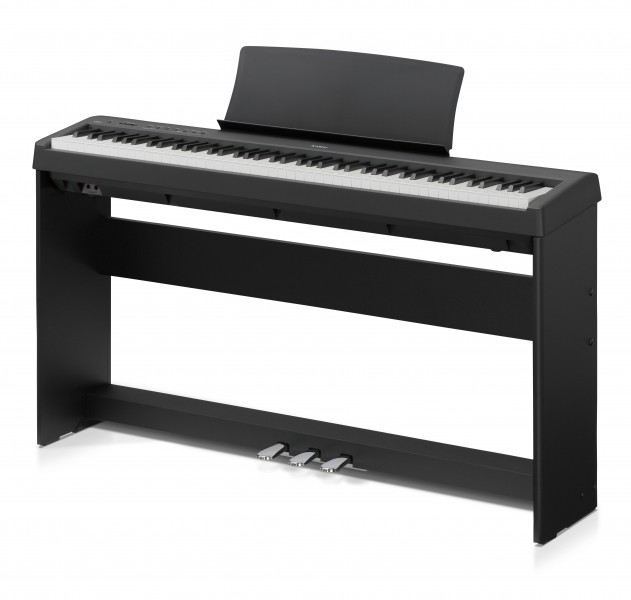 OUR PICK:
KAWAI ES110
Casio ap-270bk 88 Keys Digital Piano
Yamaha Arius YDP-144 Digital Piano
BETWEEN £800-£1000
Digital pianos at this range possess more authentic sound sampled from an acoustic concert grand piano.
Some pianos at this range are:
OUR PICK:
Yamaha Arius YDP-S34 Digital Piano
CASIO CELVIANO AP 250BK Digital piano
AP470 Celviano Digital Piano
ABOVE £1000+
We do not advise you to spend any more than £1000 on a digital piano. The next step up is a Hybrid piano, which cost around £2000, the same price tag as a second-hand acoustic piano.